Print
---
---
Is it possible to cook cabbage soup for the winter? Easy! I share with you a recipe for cabbage soup with fresh cabbage, onions, carrots, tomatoes and sweet pepper. Close the cabbage soup in the banks and save it to snowstorms outside the window.
To prepare such cabbage soup for the winter, choose not a young cabbage with tender leaves, but a dense and crispy, preferably light (dark – too hard). I am sure there will be no questions with onions, carrots and peppers.
Tomatoes for such a harvest for the winter take ripe and juicy, even if they are soft. Whether or not to peel the fruit is up to you. You can simply roll the tomatoes through a meat grinder if you have no time to mess around for a long time.
I do not advise changing the amount of sugar, salt, vegetable oil and vinegar. Dressing for cabbage soup turns out to be balanced in taste, and even if you personally don't have enough salt, you can add it at any time directly when cooking soup.
How to use such a blank for the winter? Cook the meat broth, throw potato slices into it. If you cook cabbage soup without meat (lean version), just boil this same potato. You can use dried mushrooms or add fried mushrooms to cabbage soup – it turns out very tasty.
When the potatoes are fully cooked and soft, add a can of canned cabbage soup (a half-liter is enough for a three-liter pot, but it all depends on how thick the first courses you like). Let the soup boil for 5 minutes, try on salt (if necessary, bring to taste). Chopped greens (dill, parsley) – either in a saucepan (boil for a couple of minutes so that cabbage soup does not turn sour later) or directly on a plate. Cook for health!
---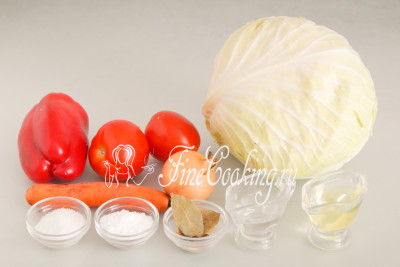 To prepare this vegetable preparation for the winter, we will need the following ingredients: cabbage, tomatoes, sweet peppers, onions, carrots, granulated sugar, refined (i.e., odorless) sunflower oil, salt, bay leaf and allspice peas.
The sequence of chopping vegetables is absolutely not important, but I advise you to chop the cabbage (1 kilogram) first so that it settles (it will take up less space in the pan – I have a capacity of 4 liters) and give the juice. Choose white cabbage not young with tender leaves, but thick and crisp, preferably light (dark – too hard). You can chop the cabbage with an ordinary knife, but it's much easier – with the shredder (directly to the pan).
Add 1.5 tablespoons of salt and 1 tablespoon of sugar to the cabbage.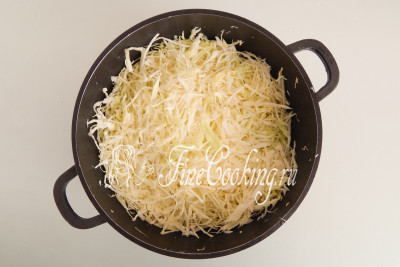 Mix directly with your hands, gently kneading cabbage straws. So she settles faster and starts to start juice.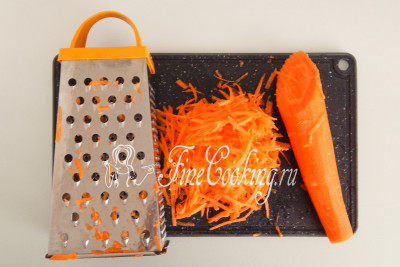 Following on a coarse grater, grind 300 grams of peeled carrots. In general, you can even cut it into strips or slices – as you used to do for cabbage soup.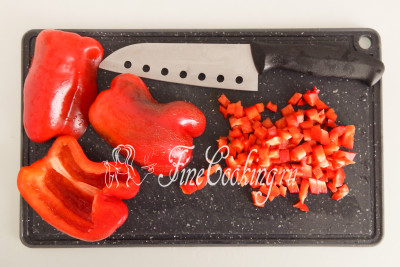 300 grams of sweet pepper cut into small cubes or just medium-sized slices. Pepper needs to be washed, dried, cut out light inner veins with seeds and stalks. Regarding the color of the pepper: you can use the one that is, but I like it with the red fruits.
300 grams of peeled onions cut into a very small cube.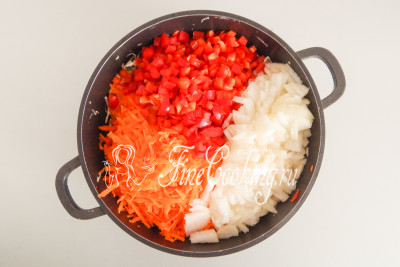 In the process of chopping vegetables, immediately transfer them to the pot with cabbage.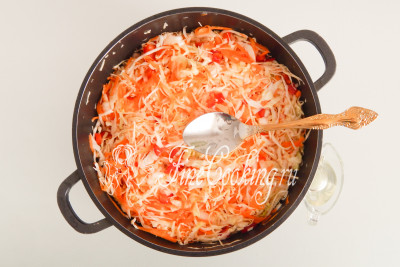 Add 4 tablespoons of vegetable oil and mix everything thoroughly. While we leave it on the table so that the vegetables let out even more juice.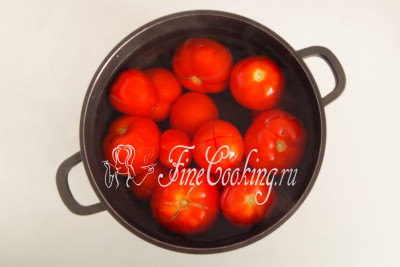 Meanwhile, prepare the tomatoes. 800 grams of my fresh ripe tomatoes, then with a sharp knife we ​​make shallow cruciform incisions from the side opposite to the place where the peduncle is attached. We shift it into bulk dishes and pour the fruits with boiling water so that the water completely covers all the tomatoes. Alternatively, you can bring the water in a pan to a boil, turn off the heat and place the tomatoes in it. Leave for 1-2 minutes, after which we drain the hot water.
Why did we do this? To easily and easily remove the peel from the tomatoes – then there will be less work in the future. She is removed in almost one motion – such a tiny one. Thus, we clean all the tomatoes, cutting out a light spot – the place where the fruit was attached to the twig.
After the preparatory work, we get 700 grams of tomato pulp with juice.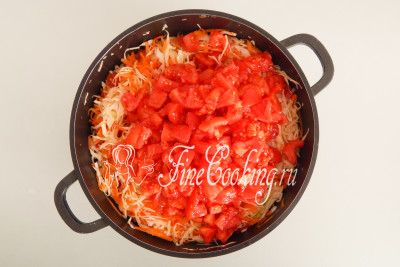 We shift them to the rest of the vegetables.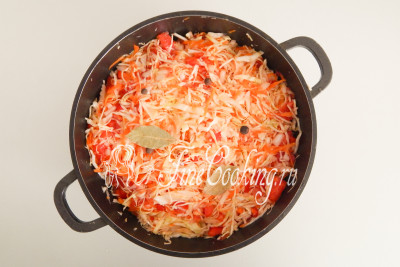 Mix so that all the ingredients are evenly distributed throughout the volume. I almost forgot: a couple of bay leaves and 4 large peas of allspice are also put in a pan.
Now look how much vegetable juice (and oil there, of course) is already at the bottom of the dishes.
It remains to heat-treat our preparation for cabbage soup so that it can be stored for the winter. To do this, put the pan on medium heat, cover with a lid and bring the vegetables to a boil. After cooking, stirring a couple of times, the contents under the lid on a fire are below average or even a minimum of about 20-25 minutes. Cooking time can differ significantly from that indicated in my recipe and depends on the hardness of the cabbage. When this same cabbage becomes soft enough and stops crunching, pour 1 tablespoon of 9% vinegar, mix the vegetables and turn off the heat. Throw bay leaves – they gave up their aroma and are no longer needed. It's time to close cabbage for the winter.
We use glass jars and new metal lids that need to be prepared in advance. Personally, I like to sterilize cans in the microwave, and boil the lids on the stove in a saucepan with water (about 5 minutes after boiling is enough). In this case, 4 glass jars with a volume of 500 milliliters will be used: wash them in a soda solution, rinse and pour about 100 milliliters of cold water into each. Steamed in a microwave at the highest power immediately 4 pieces for 10-12 minutes, drain the water, and in hot jars we lay out the vegetable harvesting to the very top.
We close the jars with lids using a seaming key or tighten the screws (as in my case).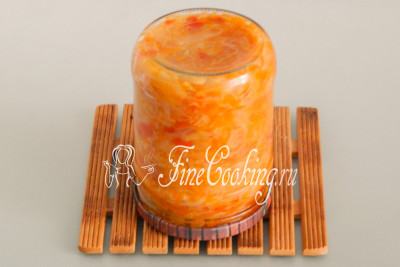 Turn the cans upside down and wrap them with a blanket or blanket. In this position, allow the cabbage seasoning to cool completely. Then we transfer to the basement (cellar, closet) and store until necessary.
In total, from the specified amount of ingredients used, exactly 2 liters of cans are obtained in jars for the winter.
Excellent vegetable harvesting, which will surely help you out in the winter or when there is not enough time to fully engage in the preparation of cabbage soup. Polinochka, many thanks for ordering and the opportunity to share a proven recipe with others. Cook for health, friends, and enjoy your meal!